The heart of Rotary is our members, dedicated people who share a passion for community service and friendship.
Rotary members share ideas, make plans, hear from the community, and catch up with friends during club programs that fuel the impact we make.
Rotary Clubs

While Rotary clubs are grounded in the same values, no two are the same, because each community has its own unique needs. At club meetings in communities across the globe, our members come together to strengthen their connections to friends and neighbors and their commitment to improving lives.

Rotaract Clubs

Rotaract clubs bring together young people ages 18 and older in communities worldwide to organize service activities, develop leadership skills, and socialize.

Interact Clubs

Through Interact clubs, people ages 12-18 connect with others in their community or school and learn about the world through service projects and activities.
Who is Rotary?
Carol Kimutai

An editor of a popular Kenyan news site who connected with other leaders in her community to pursue her passion. Carol and 38 other Rotary members raised $40,000 for polio eradication and other projects by climbing Mount Kilimanjaro.

Cynthia Salim

A successful fashion designer who combined her passions for social responsibility and fashion with the help of a Rotary Ambassadorial Scholarship. Her clothing line, Citizen's Mark, produces women's clothing constructed of socially responsible materials and made by fairly paid workers in environmentally friendly factories.

Joel Jackson

An Australian actor who found purpose after taking a Rotary Youth Exchange trip to Brazil. "I learned responsibility from Rotary," he said. After he returned, he launched his acting career, which now includes two acclaimed TV miniseries, "Deadline Gallipoli" and "Peter Allen: Not the Boy Next Door."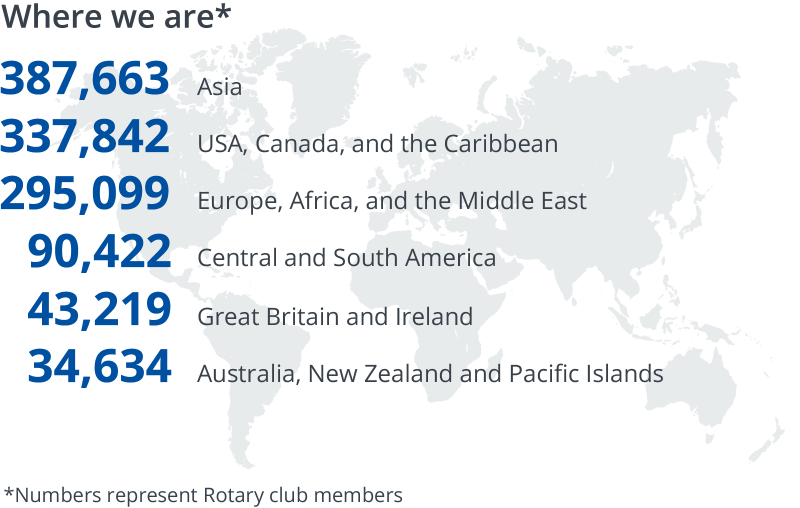 Club benefits
Your club connection gives you the chance to develop skills like public speaking, project management, and event planning. You'll meet interesting people from your community and around the world. And you'll tackle local and international issues that are important to you and your fellow club members.
Some clubs conduct all or part of their meetings online, for members who have a busy schedule, limited mobility, or live in an area without an established Rotary club. Online clubs, sometimes known as e-clubs, meet regularly, carry out service projects, support The Rotary Foundation, and socialize, like any other Rotary club, without the cost that often comes with meeting in person.
Learn more about online club meetings
International connections
You can expand your club connections to the world by developing a twin club relationship, organizing a Friendship Exchange, joining a Rotary Action Group or Rotary Fellowship, or hosting an Open World visit. With more than 35,000 Rotary clubs worldwide, you have a friend in Rotary wherever you go.
Find more ideas for making an international connection
Twin clubs
Twin clubs, or sister clubs, are two clubs from different countries that form a long-term relationship to promote international understanding and goodwill and carry out service projects in their communities. When looking for a partner, consider clubs that:
Share similar interests, challenges, or history
You've worked with in the past
Are located in a place that matches your club's service interests
Speak a common language
Browse projects seeking resources and consider partnering on a service project as a first step toward establishing a twin club relationship.
Recognize your relationship with a Twin Club Certificate of Recognition for Rotary Clubs and Rotaract Clubs.
Friendship Exchange
Explore new cultures and discover diverse perspectives by participating in a Friendship Exchange, a self-funded international exchange opportunity for Rotary members and their families. Taking part in an exchange is a wonderful way to make new friends and establish international service partnerships.
Download a Rotary Friendship Exchange promotional postcard.
Email us with questions.
Rotary Action Groups
Connect with Rotary members, family members, and Rotaract members who are experts in a particular field by joining a Rotary Action Group. Group members share their expertise by collaborating with clubs and districts on service projects.
Rotary Fellowships
Interested in scuba diving or marathon running? Want to use your skills as a doctor or environmentalist to make a difference? Share your hobby or vocation with fellow club members, their spouses, and Rotaractors. Some Rotary Fellowships are purely social, and others use their common interests and knowledge to carry out service projects.
Intercountry committee
An intercountry committee offers you the chance to work with Rotary clubs or districts in two or more countries. You might work with a committee to carry out international service projects, to sponsor a new Rotary club, or to develop a twin club relationship.
Open World
Rotary clubs in the United States have a unique international and vocational service opportunity through Open World. In this federally sponsored program, clubs host a small delegation of current and future leaders from Russia, Serbia, or Ukraine. Clubs prepare a professional program related to U.S. business, community, and civic life.
These visits help develop a network of leaders who understand how American communities tackle contemporary issues. And the relationships they form often lead to service projects between Rotary clubs in two countries.
Complete the host request form
Find answers to FAQs
Download Open World hosting themes
Download the Open World program brochure
Email us with questions?
Refer potential members, and we'll help connect them to the right club. Only current members can refer new members. To refer someone to your own club, contact your club secretary.
Did you move? Has your schedule changed? We can help you rejoin your former club or find a new one that better fits your location and schedule.